Aqueduct Racetrack Betting Guide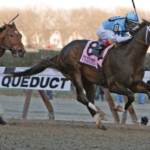 The Aqueduct Race track is a thoroughbred horse racing facility. This racing facility is also known as Big A. It is located in the state of New York. The track is at its busiest between November and April. The track was established in 1894. In 1956, the race track closed for renovations amounting to $33 million. It later re-opened in 1959. The race track has a casino resort as well, maximizing entertainment value.
The aqueduct Race track is the venue for the first and only triple dead-heat win in a stakes race. To date, only a single horse racing betting meet is held annually at the iconic race track. The meet commences on the last Wednesday in October and runs through to the first Sunday of May. In this guide, we will be sharing with you which sportsbooks are convenient for Canadian bettors betting on events at the Aqueduct Race track. We'll also list the various events you can bet on. If you are looking for a race track that offers nothing but the best in horse racing and gambling, this is it.
Sportsbooks for Aqueduct Race track Events
The aqueduct race track has plenty of horse racing events that Canadian bettors can place wagers on.  There are plenty of sportsbooks that cater to these races. If you are a bettor in Canada and are interested in placing wagers on Aqueduct Race track events, then these are the sportsbooks for you.
What You'll Find in this Guide:
Events at Aqueduct Racetrack
As we had previously mentioned, there are plenty of racing events that you can bet on. These events run from October to April. There are five races that take place at the Big A.
Wood Memorial – this race is an American flat thoroughbred horse race for 3-year olds.
Gazelle Stakes – a race that takes place and is open to 3-year old thoroughbreds.
Carter Handicap – takes place annually in April. Only 3-year olds upwards thoroughbreds may enter this race.
Cigar Mile – this is a handicap race. Only available to thoroughbred horses.
Gotham Stakes – a thoroughbred horse race held for 3-year old horses. It takes place annually in March.
Available Betting Options
Win – this is the easiest bet to understand. You are simply betting on which horse will win the race.
Place – A bettor places a wager on their chosen horse to finish in either the first place or second place.
Superfecta – this is the highest paying bet. A bettor will pick the first, second, third and fourth place in a race.
Show – this bet type requires that bettor predict that their pick will finish in the top three.
Exacta – an Exacta bet is similar to a Place bet. Except, in this case, a bettor is predicting which horse will win the race and which one will come second.
These are just the most popular betting options in the world of horse racing. The other most popular betting options are listed below.
Quinella
Across the board
Daily double
Treble
Patent
Trixie
Betting at the Aqueduct Racetrack
The New York Racing Association, NYRA, has made provision for technology in the world of horse racing. They have developed an app that allows bettors to gain access to a wide range of betting options. This app allows you to bet on races taking place at over 250 tracks, globally. Canadian bettors, therefore, have the opportunity bet on races taking place at the Aqueduct Race track.
To participate in these races, feel free to sign up with any of our sportsbooks that cater to the Canadian market. Sign up today for great bonuses and promotions.
Check Out Other Horse Racing Guides: