Belmont Park Race Track Guide Canada
Belmont Park race track is a horse racing venue in New York State that caters to thoroughbred racing. It was established back in 1905 and it is home to the Belmont Stakes which comprises of the final leg of the Triple Crown series and final. Belmont is of the major three race tracks in the state of New York. The other two major race tracks in the state are the Saratoga and the Aqueduct race tracks. There are several events that take place at the track. The Belmont Race track is bigger than the average race track. The dirt track, also known as the main track, is 1.5 miles long. Because of this, it is the biggest race track in the US.
Belmont Park race track hosts an annual spring/summer meet from May to July and an annual fall meet that begins early September right up until the end of October for horse racing betting fanatics. In this guide, we will tell you all you need to know regarding these events and others. We will also share a list of reputable sportsbooks that you can sign up with to get betting on the horses.
Sportsbooks for Belmont Park Race track Events
If you are based in Canada and would like to bet on horse racing events at Belmont Park Race track then these are sportsbooks for you.  It's important to look at the payment methods of the sportsbooks to ensure that they suit your preferences. To make this easy for our Canadian bettors we have compiled a list of reputable sportsbooks for their convenience.
What You'll Find in this Guide:
Events at the Race Course
There are several events that are held by the prestigious Belmont Park race track. The tracks main event is the Grade 1 Belmont Stakes. Other events hosted by the track are listed below.
The Metropolitan Handicap
Mother Goose Stakes
Jockey Club Gold Cup
Acorn Stakes
Champagne Stakes
Coaching Club American Oaks
The Belmont Stakes
The Belmont Stakes is a race event that is commonly known as one of the three American classics for 3-year-old horses. The race is known to pull in large crowds as well as a huge TV audience. There is a wide variety of betting options that are available at the Belmont Stakes that punters from Canada can place. These are the most common types of betting options:
Double
Treble
Place
Win
Trifecta
Exacta
Breeders Cup at Belmont
The Belmont Park Race track has also been home for the Breeders Cup race several times including in 1995, 2001, and 2005. The Breeders Cup classics horse races that have been hosted at Belmont race track have been the second most popular racing event, next to the Belmont Stakes.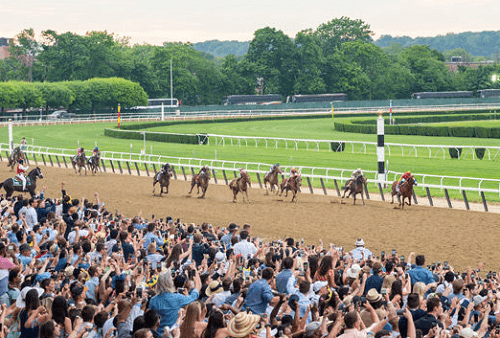 Overall
Punters in Canada can participate when it comes to betting on the horse racing events that take place at Belmont. There are plenty of ways that you can place your wagers. Firstly, you can sign up with any of our recommended sites and start placing your bets in the comfort of your home. You can also download the mobile app designed by the New York horse racing association allowing you to place bets on horse racing events anywhere in the world.
If you sign with our recommended sites you'll find bonuses and promotions waiting for you take advantage of them.
Check Out Other Horse Racing Guides: