Best Ontario Sports Betting Guide
Ontario sports betting is made easy with the use of offshore betting sites. Being the most populated Canadian province, Ontario is filled with punters looking to make their lives easier. In our guide, we will take a look at the various ways in which bettors can place bets on their favourite sports. For punters who aren't really familiar with the gambling laws in the province, we will take a look at that as well.
There are quite a few online sportsbooks that bettors can make use of. This includes the benefits attached to betting through a betting site. Firstly, there are promotions and bonuses that players are eligible to get upon signing up for a real money account. This is something you wouldn't normally get at land-based sports betting retailers. Secondly, punters have the convenience of being able to place bets using their mobile devices while on the go. The other option is to place wagers in the comfort of your home, skipping queues at retailers. For your convenience, we have done our research and suggest the best betting sites for our punters. These sportsbooks can be used by bettors in Ontario, with no fear of breaking the law.
Top Ontario Sports Betting Sites
Ontario Sports Betting Page Links:
Popular Betting Methods in Ontario
The sports betting system in Ontario is based on the pro-line method. This can also be described as a parlay bet. In other words, bettors can use one ticket to bet on up 12 games. It will vary from one betting option to another, but the concept remains the same. The trick with the pro-line betting system is that all the games you've placed a wager on must give you the outcome you desire, should one game be lost and give you an undesired outcome then the whole ticket is lost.
Pro-Line
We mentioned this as a betting system, but it can also be used as a betting option. Punters that use this option get the opportunity to bet on the final results of between three to six games.
Point-Spread
This is similar to the point spread bet that would be implemented on its own, except now you use it together with the parlay method. You can bet on the outcome of between two and twelve games. You can either bet on the visitors as the winners or the home team. The point spread commonly associated with football, may be referred to the run line in baseball or the puck line in Hockey, however, they mean the same thing.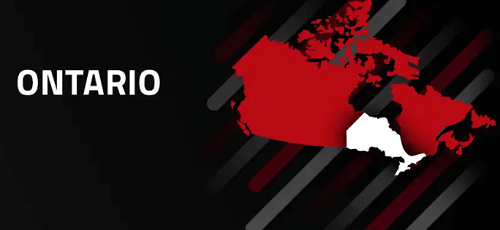 Ontario Sports Betting Laws
Ontario sports betting and gaming is regulated by the Gaming Control Act which was introduced in 1992. This was in efforts to control the growth of the gambling industry in the province. While internet betting in Ontario is not permitted, punters may make use of offshore betting sites, such as the ones we've listed above. There is no law against using offshore betting sites.
Another aspect of gaming laws in Canada that punters need to be aware of is the single-team betting. This is why we had placed heavy emphasis on the Pro-line system earlier. Bettors are legally forbidden from placing a wager on just one match or a single team. The Parlay method is the only accepted betting method.
Popular Sports and Teams to Bet on In Ontario
Ontario has some great teams that represent the province at all popular tournaments. They have teams in the National Basketball Association, National Hockey League, Major League Baseball, Canadian Football League as well as Major League Soccer. Below, we've listed the various teams that you could bet on as a resident of Ontario.
MLS – Toronto FC.
MLB – Toronto Blue Jays.
CFL – Hamilton Tiger-Cats.
CFL – Toronto Argonauts.
NBA – Toronto Raptors.
NHL – Ottawa Senators.
NHL – Toronto Maple Leafs.
CFL – Ottawa Redblacks.
Conclusion
If you are new to online sports betting then allow us to redirect you to the betting sites we've listed above. They all come highly recommended for both new and seasoned punters located in Ontario. Sign up today to get some great promotions and bonuses when you bet on your favourite team!
Check Out More Provincial Betting Guides Here: